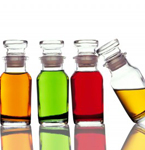 At ChemHost, not only do we supply qualified products, we also demonstrate how well they work.  Our "product performance evaluation service" ensures the compatibility and performance of our product in your system.
We have a fully staffed formulation and application lab in Nanjing, China, where we provide solutions for various industries by offering independent evaluation and qualification tests.  We formulate our additives into paints, inks, architectural coatings, and specialty coatings; and offer evaluations on performance, weathering, appearance, chemical resistance, etc.
From idea to formulation, ChemHost has the expertise to improve your paint, ink, or coating products to a more advanced level in the market!