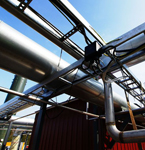 Whether you have your own manufacturing solution, or need to develop one, ChemHost can help.  We have over a decade of experience in contract, custom, and toll manufacturing of specialty chemicals.  We have the space, infrastructure, resources, equipment, and technical capabilities to serve your needs.  We are proud to have been a reliable supplier for our customers for over ten years!
To meet the wide range of our customers' needs, we have built strong partnerships with two full-sized chemical manufacturing plants, two R&D centers, and one application lab.  In addition, we have a highly skilled team of researchers to meet the technical challenges, and a project management team to coordinate the international operations.
Our labs/pilot plants provide samples to assure that we fully comply with your needs.  Once approved, we can launch commercial production in a dedicated or multi-use facility.  Then, with the combined assets of our partners, scale-ups to full commercialization do not present a bottleneck.  Whether we design or improve your processes, we bring your project to full commercialization with an efficient cost structure, and rapid timeline.
Process Development

Commercial Production

Other Facilities